SEND US A LABEL FILE OR
REQUIREMENTS FOR SENDING US A PRINTED LABEL
ART WORK HELP & COSMETIC LABEL GUIDANCE
SENDING US YOUR OWN LABELS ON A ROLL?
ROLL DIRECTION 4 LEFT SIDE FIRST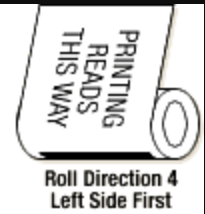 PLEASE ENSURE THE FOLLOWING 
IF YOU ARE SENDING PRE PRINTED LABELS.
ON A ROLL

, Must be on a 3″ Core with MAX OD 6″ ( No Sheet Labels)

MUST BE Left Side First (Show the printer the image to the left) 
NO LASER CUTTING

, All labels sent to us MUST be cut with a die cutter or plotter. Laser Labels will be rejected and shipped back 

Ensure the label company assesses the QA, Labels are applied with an automatic machine and signficant tension is applied to the backing paper. If the plotter or die cuts through the backing paper it will cause significant waste. 
We recommend you obtaining samples. We are NOT responsible for customer labels sent to our lab. Remaining Labels will be shipped back with the order for future use. 
Store labels at Room Temperature & in a Dark Bag. Adhesive Can fail if exposed to changing humidity levels, heat or cold!